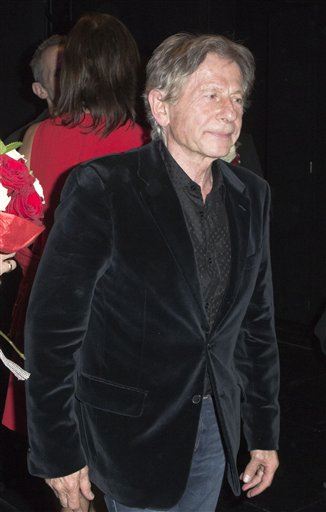 Director Roman Polanski, center, walks on stage at the end of the premiere of "The Fearless Vampire Killers" on Oct. 16, 2014, in Paris.
Prosecutors in Poland questioned filmmaker Roman Polanski at the request of US prosecutors who are seeking his arrest on charges from 1977 of having sex with a minor.
Boguslawa Marcinkowska, a spokeswoman for the prosecutors in Krakow, said today the filmmaker remained free but available for further proceedings. Mateusz Martyniuk, a spokesman for the prosecutor general's office, said the US requested Polanski's arrest and Polish prosecutors were expecting that an extradition request would follow. Earlier, Deputy Foreign Minister Rafal Trzaskowski hinted that Poland would not be willing to act on a US extradition request, if one were made. Polanski's movements are restricted by an Interpol warrant in effect in 188 countries, but he travels freely between Switzerland, France, and Poland. Of Jewish descent, he attended the opening in Warsaw on Tuesday of a monumental museum of the 1,000-year history of Jewish life in Poland. He later traveled to the southern city of Krakow, where he lived when World War II began. The 81-year-old director lives in Paris, where—as a French citizen—he is immune from US justice, which he fled in 1978. In 2010, he was freed from Swiss house arrest after that government refused to extradite him.
---