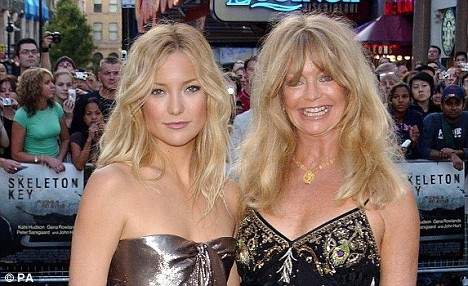 Kate Hudson revealed that she and her momGoldie Hawn can see dead people.
And she was not kidding.
On Friday, Hudson and her Wish I Was Herecostar Zach Braff stopped by the British talk show, "Alan Carr: Chatty Man," where she opened up about her sixth sense.
"Me and my mom Goldie can see dead people," she said before elaborating, "It is not really seeing, it is feeling a spirit; a fifth energy."
The actress noted, "I believe in energy. I believe our brains can manifest into visual things."
Hudson then offered a few tips for those who find themselves having a spiritual encounter.
"When you see something, you are supposed to tell the energy what year it is and that they don't belong there," she explained.
Hudson continued, "When your brain is freaking out on you, you may have to remind it. Why is being dead funny?"
She also told a terrifying story about a time when she saw a "ghost of a woman with no face."
"That was really creepy," recalled Hudson.
---