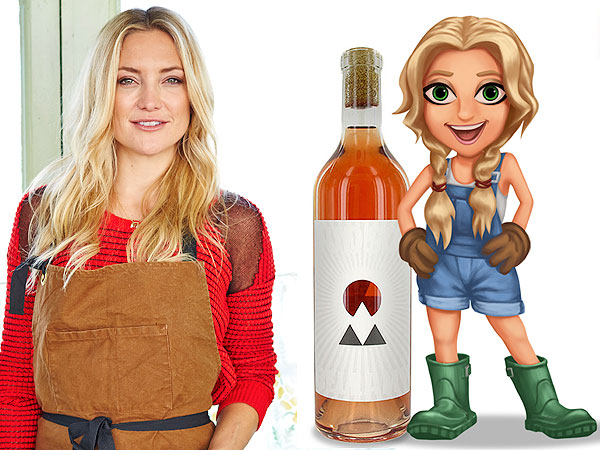 Steve Ryan; Courtesy Zynga
Kate Hudson can add a new role to her acting resumé: video game character.
Starting Tuesday, fans of the FarmVille 2: Country Escape game will meet an avatar based on the actress, who, along with longtime fiancé and Muse frontman Matthew Bellamy, produces Hudson-Bellamy Wines. Players will get to virtually make both Hudson's wine as well as her own fig burrata flatbread recipe, which she told PEOPLE was inspired by "fall, my absolute favorite time of year to cook."
Hudson said that both she and Bellamy play the Country Escapes version of FarmVille, which she calls "engaging and adorable," and that the experience of appearing in it has made her rethink her wardrobe a bit.
"Creating the avatar was really fun and it's always funny to see yourself as a cartoon character. We got a good kick out of it, although I will say I'm really digging the outfit and I may need to go purchase some short overalls," she said.

Courtesy Zynga
The current Hudson-Bellamy wine portfolio includes Sauvignon Blanc, Rose Syrah and Pinot Noir, and Hudson talked about what's surprised her the most since entering the vino business (she may have been inspired by her dad Kurt Russell, who's been a celeb vintner for a while).
"Winemaking is a seriously creative process that is completely integrated into nature so you never know what the year is going to bring … You tune into all of your senses besides touch—its sight, color, smell. It's no wonder people who love wine are so passionate because you are tapping into so many different senses at once," she said.
Here's Hudson with winemaker Peter Work of Ampelos Cellars (where her wines are created):
Of course, one of the ways to best appreciate a good varietal is to enjoy it with food. Hudson said that although she's most looking forward to eating her mom Goldie Hawn's pheasant stew this holiday season, there is one ingredient in particular she loves to pair with wine: "I'm a cheese person. Nothing is better to me than cheese and wine."
Speaking of cheese, Hudson shared the real-life recipe for the fig and burrata flatbread along with one for grilled pesto chicken that she and Bellamy created together. Both dishes are easy to pull off at home and you won't even need coins, keys or a crop silo to succeed.
Fig and Burrata Flatbread
Serves 4
½ cup water
½ tsp. salt
⅓ cup olive oil
1 ½ cups all-purpose flour
1 whole burrata
10 figs, sliced into quarters
1 cup arugula
1 tbsp. honey
½ tsp. fleur de del
1. Pre-heat oven to 450F.
2. Using a medium bowl, whisk together the water and salt. While mixing, slowly add the olive oil.
3. Add ¾ cup of flour and whisk together until the dough mixture is elastic and sticky. Then gradually add the rest of the flour until the dough becomes workable.
4. Roll the dough into a circle (it doesn't have to be perfectly round), taking care that it doesn't become too thin.
5. Bake atop greased cookie sheet for 8 to 10 minutes or until dry and crispy.
6. Brush the flatbread with olive oil and when it is completely cool, add burrata, figs and arugula. Garnish with a drizzle of honey and a sprinkle of fleur de sel.
Pesto Tomato Chicken with Peach Salsa
Serves 6
½ cup olive oil (plus about a tablespoon for sautéeing)
½ cup cherry tomatoes, diced
1 cup basil
1 clove garlic
6 boneless chicken breasts
fine sea salt and pepper, for seasoning
3 peaches, peeled and diced
½ cup diced red onion
¼ cup fresh cilantro, chopped
1 tbsp. lime juice
1 tbsp. honey
1 tsp. balsamic vinegar
½ can black beans, drained and rinsed
1. In a frying pan over medium heat, sauté the tomatoes in the tablespoon of olive oil until their juice is reduced (for about five minutes). Allow them to cool and place them into a food processor.
2. Add the rest of the olive oil, basil and garlic and process until finely mixed.
3. Lightly season the chicken breasts with fine sea salt and black pepper, then place them in a mixing bowl with the tomato mixture, turning to ensure meat is well-covered. Cover bowl and marinate in the refrigerator for at least two hours.
4. Combine the peaches, onion, cilantro, lime juice, honey, vinegar and beans in a bowl and set aside.
5. Grill chicken for about six minutes per side and serve with the salsa.
---