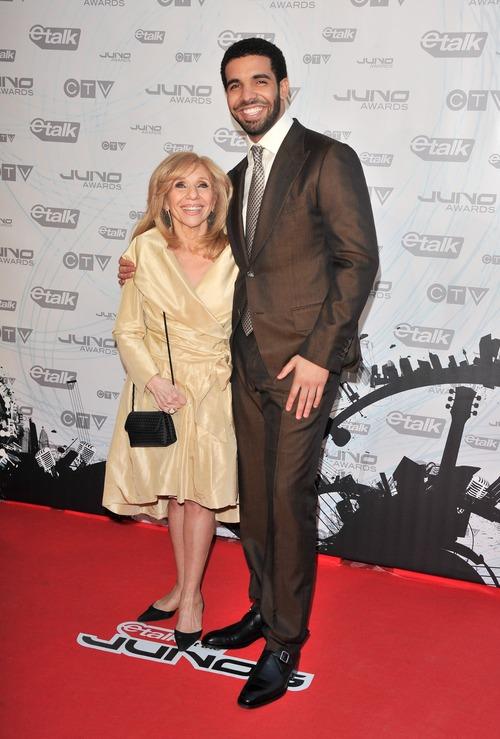 It's easy to understand how Drake could get weepy over being rejected romantically or appear choked-up while singing songs like "Too Much." But if the soulful rapper really doesn't want fans to perceive him as vulnerable and overly emotional he probably shouldn't post selfies that look like he's about to burst into tears…and maybe he should think twice before running to his mama to defend him.
Yet that's just what he did after Christmas dinner by holding up his cell phone recorder and asking why people think he cries a lot. In an Instagram post captioned "My mom on why people think I cry a lot," Drake's mother explains that her boy is widely misunderstood.
"It's not that you cry at all," she says while washing dishes in a kitchen decorated with black and white checkered tiles. "I've never seen you cry onstage or even when the two of us are just together."
In a second post captioned "Sensitive Soul," she elaborates: "They don't think you cry, they imagine that you would be a person that may cry because you are a sensitive soul."
Drake didn't shed tears of joy during his mother's commentary, he laughed. Regardless, his post seems to have only further endeared him to his followers, especially the ladies in the house.
"Drake, us women love you! Who cares what the men think?" wrote dolcetiaaxco, one of more than 7,000 who commented on the posts. "I don't even care if you cry."
"She knows that showing emotion don't ever make u a p----," added another follower, 8lmnop. 
As of this morning more than 227,000 had viewed Drake's Instagrams. We're pretty sure that made Mr. Softy at least a little misty.
---