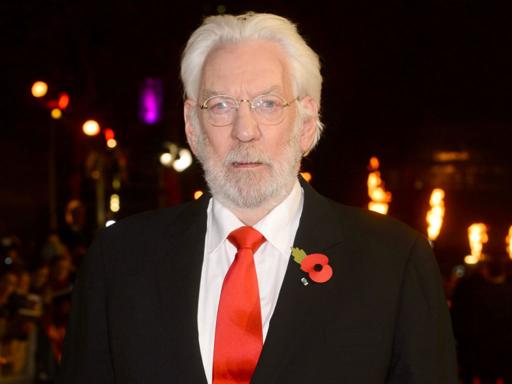 Donald Sutherland believes "we've wrecked this world".
The 79-year-old Canadian actor portrays President Snow in The Hunger Games films, a character who some describe as a ruthless leader in the fictional dystopian setting.
And Donald explains he took on the role in order to inspire youth.
"I wanted to end my life being part of something that I thought would maybe catalyse and revolutionise young people because they have been so dormant," he explained on TV show Good Morning America on Wednesday. "This [last American] election, it was the lowest voter representation in 72 years. Young people have to get out, you have to get out and change things, you really do. It's up to you. We've wrecked this world and if you're gonna fix it, you've gotta do it now."
Donald teamed up with civil rights activist Jane Fonda to co-produce and star in their anti-Vietnam War documentary F.T.A., which was released in 1972.
He believes dissent is an important part of cultural evolution.
"If I can just see young people catalyse and go to the voting booth and have some kind of a revolutionary movement — not an armed revolutionary movement but a revolutionary movement, that would change things up," he said.
Donald, who has achieved critical acclaim for his role in the adaptations of Suzanne Collins' novels, has previously acknowledged how powerful The Hunger Games audience is.
However, he was initially unaware of the huge global fanbase the stories have attracted.
"I was at my dermatologist, and she asked me what I was doing next," Donald recalled to Variety magazine. "I told her I was about to do something called The Hunger Games. She gasped and started calling everyone into the room, and they all came running. That was my first inkling it might be something big."
---