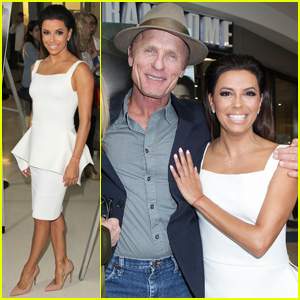 Eva Longoria is glowing in her white dress while attending the premiere of her latest film Frontera held at the Landmark Theatre on Thursday (August 21) in Los Angeles.
The 39-year-old actress was joined by her co-stars Ed Harris and Amy Madigan at the event for the flick, which is set to hit select theaters on Friday (September 5).
Frontera follows the events that take place after a former Arizona Sheriff's wife (Madigan) is killed while riding on their Ranch property. It would appear a Mexican man (Michael Pena) crossing in to the US illegally is at fault. As former Sheriff (Harris) and current Sheriff (Aden Young) search for answers, lives are changed forever – Watch the trailer below!
---