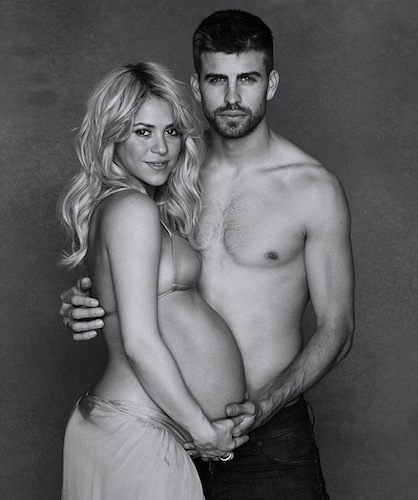 Milan is going to have a baby brother!
Nearly two weeks after Shakira confirmed she's pregnant and expecting her second child with boyfriend, FC Barcelona soccer star Gerard Piqué, the Latin songstress' parents have confirmed she's having a boy!
"We're very happy. She's having another baby boy — a playmate for Milan," her mother Nidia and fatherWilliam are quoted as saying in the Hola! magazine. "We don't know anything about names yet."
Milan poses with his daddy.
The 37-year-old beauty, who confirmed the news of her second pregnancy to Spanish Cosmopolitan, also revealed the baby's gender in the interview. "The sexy singer admits Milan will have a little brother soon," the publication wrote in the September issue.
Shakira also took to Twitter after confirming her joyous baby news:
But don't expect her second little one to be her last!
"If it weren't because of my music projects, I would be pregnant already," she told Latina in its April issue. "I would love to have eight or nine kids with Gerard — my own fútbol team."
---