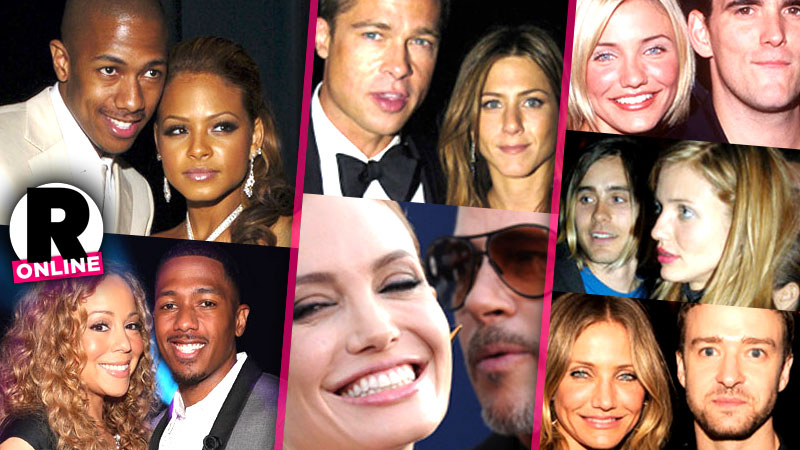 They say Hollywood's a small town, but when you look at who's dated who, it proves especially true. A surprising number of celebrities – and high-profile ones, at that – have romanced the same person, sometimes at the same time. Here are a few of our favorites that prove that Tinseltown has a smaller dating pool than you think.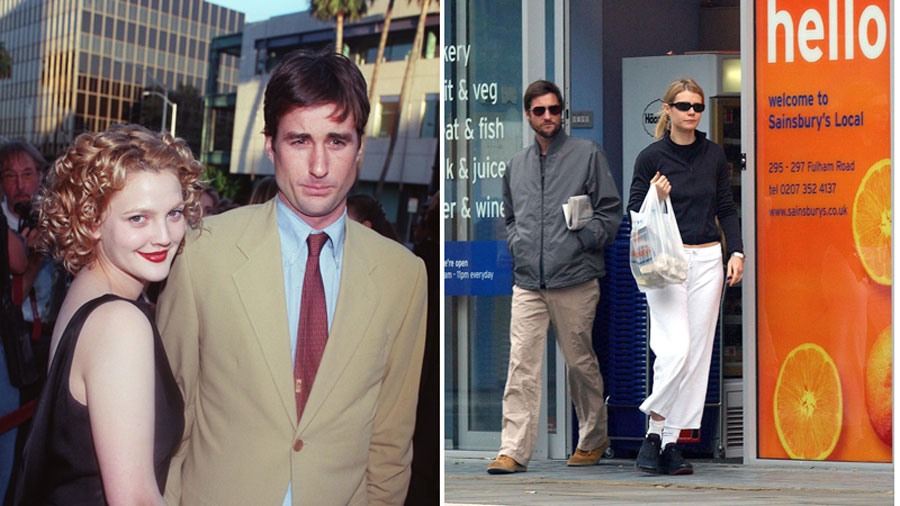 Luke Wilson seems to have a knack for falling in love with his leading ladies. The Texan has dated Drew Barrymore (his co-star in 1998's Home Fries) and Gwyneth Paltrow, who played his sister in the 2001 film The Royal Tenenbaums.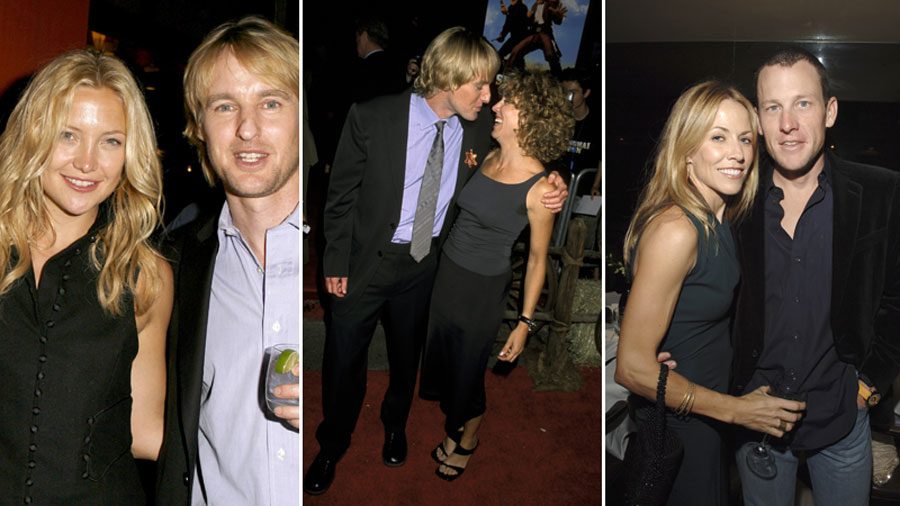 Luke's older brother Owen Wilson is also a hit with the ladies, having dated both actress Kate Hudson and singer Sheryl Crow. Years after dating Owen, Sheryl went on to get engaged to her former beau's friend, Lance Armstrong, who has also dated Kate.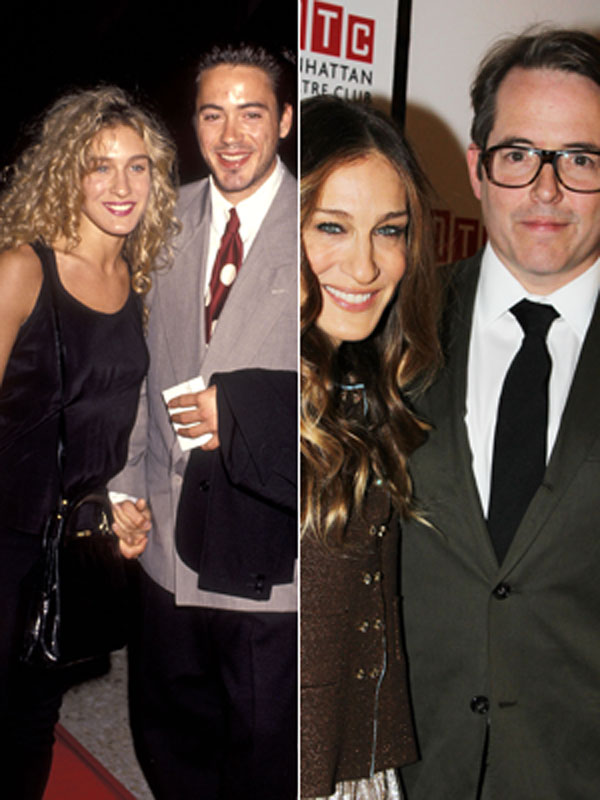 Getty
It's hard to imagine it now, but back in the 1980s, Robert Downey Jr. was getting hot and heavy with Sarah Jessica Parker, long before she ever heard the name Carrie Bradshaw. Now the former Sex and the City actress is married to Ferris Bueller's Day Off star Matthew Broderick.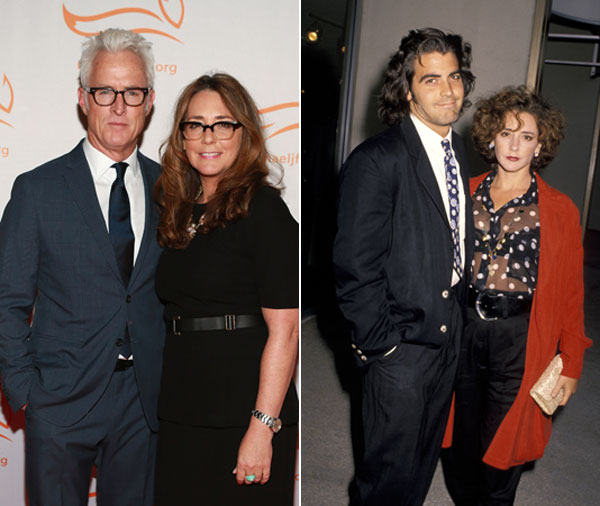 Getty
Talia Balsam is one lucky lady. The actress has been married to two silver foxes – her Mad Men co-star and current husband John Slattery, and George Clooney. She now holds the title of being the first woman to get George to walk down the aisle, as he prepares to do it all over again with lawyer Amal Alamuddin.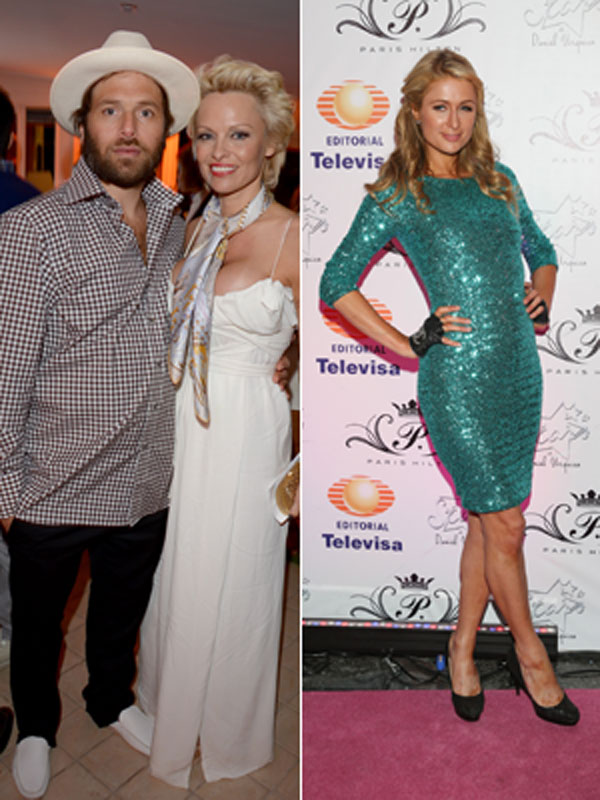 Getty
Pamela Anderson nearly divorced Rick Salomon – for the second time – after implying that he was addicted to online porn. Given that he was the man who filmed ex-girlfriend Paris Hilton in her infamous sex tape, it's no surprise that she felt that way.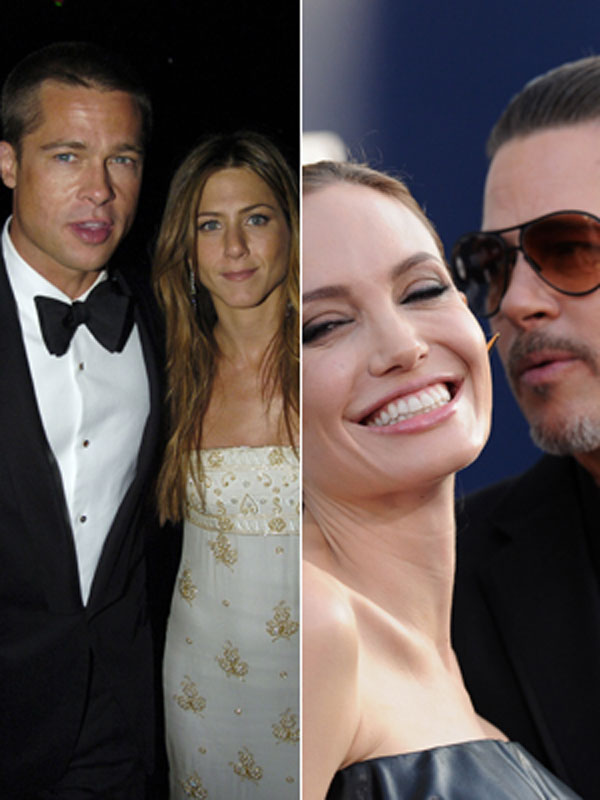 Getty
The most famous celebrity love triangle in recent times is the one between Brad Pitt, Jennifer Aniston and Angelina Jolie. These three A-listers will forever be linked after Brad left his wife of five years to set up home with his Mr. and Mrs. Smith co-star Angelina Jolie.
Getty
It's hard to believe that Jerry O'Connell and Giuliana Rancic were ever a couple, let alone engaged. But exactly when he split with the E! host and started dating former Spice Girl – and now ex-girlfriend – Geri Halliwell, is unclear.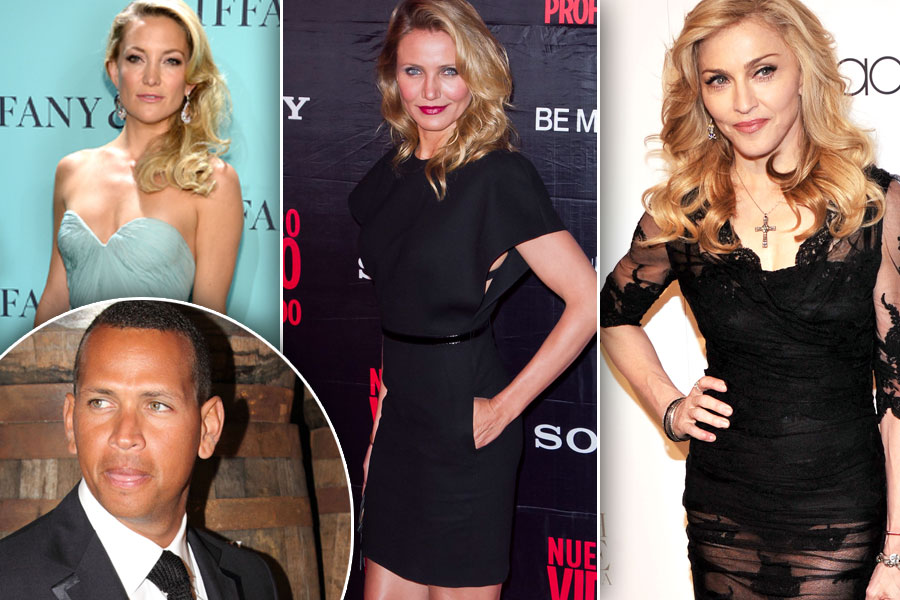 Getty
At one point it seemed that baseball star Alex Rodriguez was making his way through Hollywood's blondes — within a few short years, the disgraced New York Yankee dated Madonna, Cameron Diaz and Kate Hudson.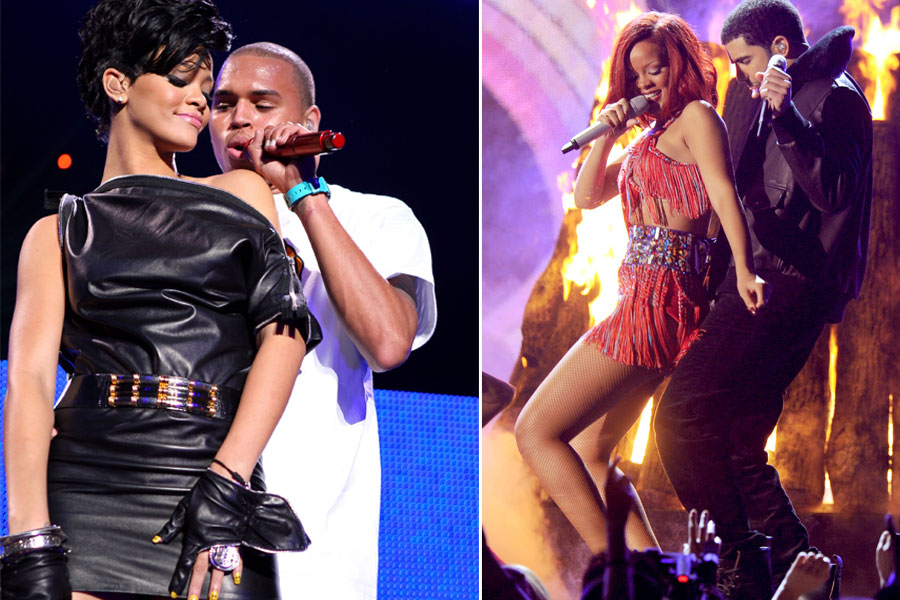 Getty
It seems that Rihanna has spent the past six years bouncing between singer Chris Brown and rapper Drake. Meanwhile the pop star's exes can't decide whether or not they're friends or enemies fighting for one woman's attention. At the moment, neither of them are dating Rihanna and they are buddies — but don't hold your breath because this scenario is always subject to change!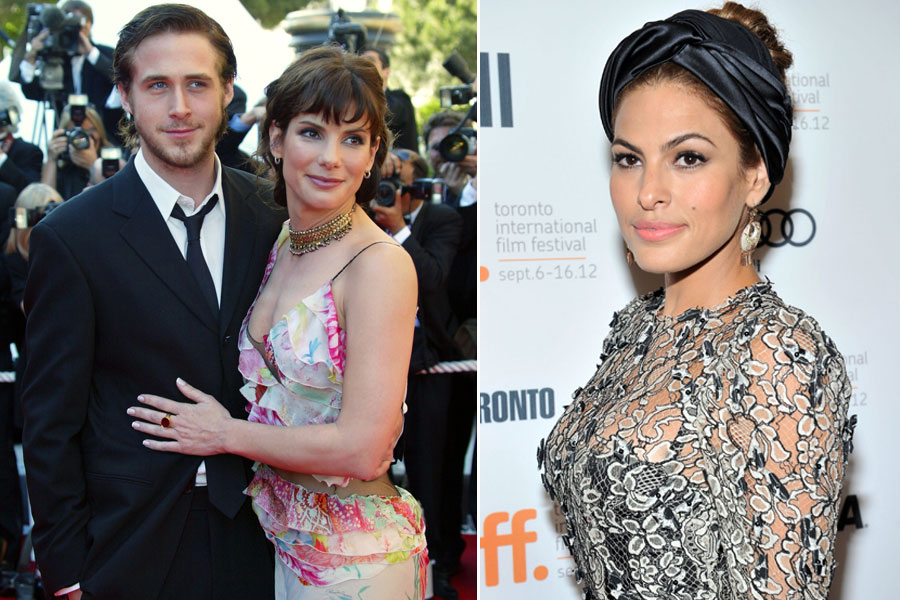 Getty
Long before he started making a baby with Eva Mendes, and before he even dated actress Rachel McAdams, Ryan Gosling was hitting the red carpet with Sandra Bullock. The couple had a May-December relationship back in the early 2000s.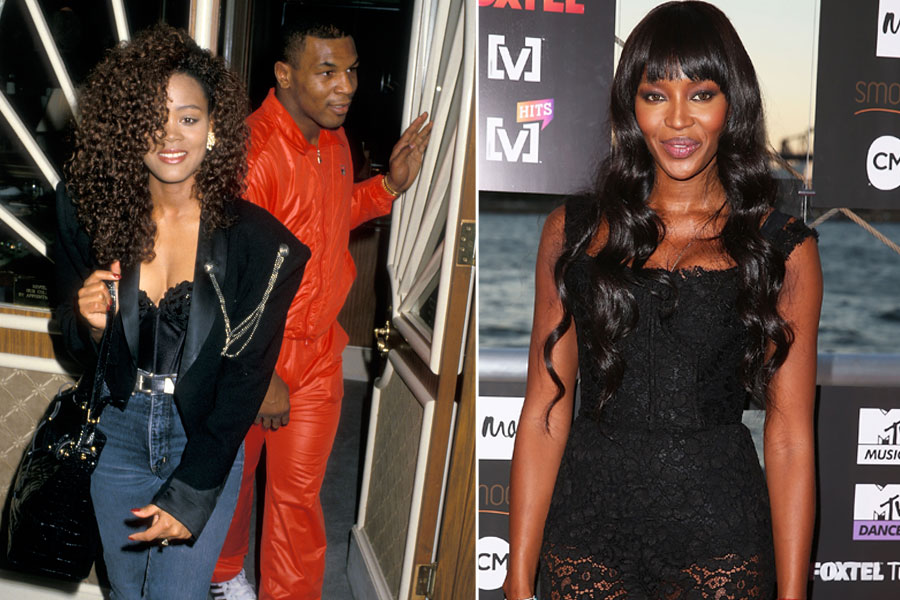 Getty
Mike Tyson is a strong man who clearly has a taste for feisty women. The former heavyweight champ has dated supermodel Naomi Campbell (who is well known for her temper tantrums) and had a volatile relationship with former wife, Head of the Class actress Robin Givens.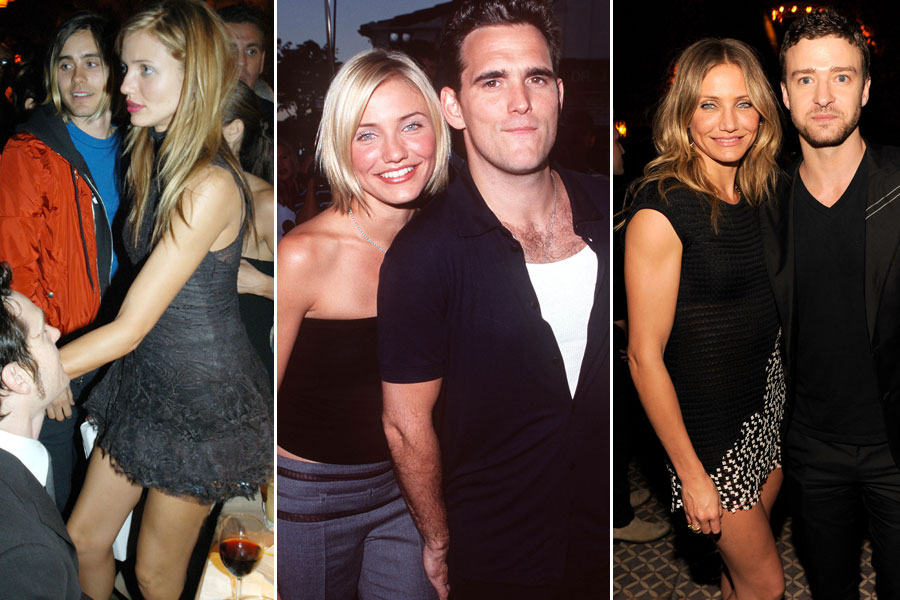 Getty
Cameron Diaz has had her fair share of well-known boyfriends, among them Justin Timberlake, Matt Dillon and Jared Leto.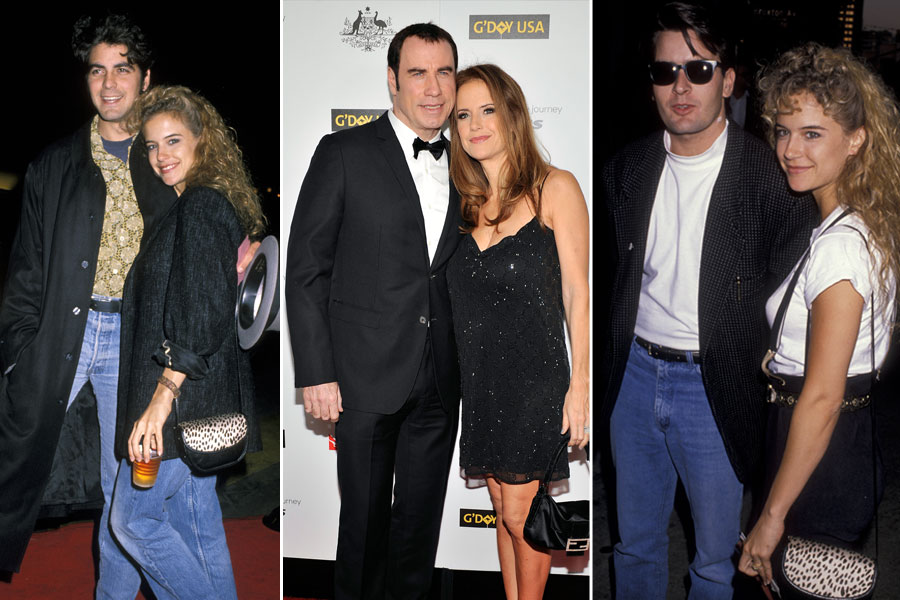 Getty
Kelly Preston has been Mrs. John Travolta since 1991, but before that she was romantically linked to George Clooney and Charlie Sheen.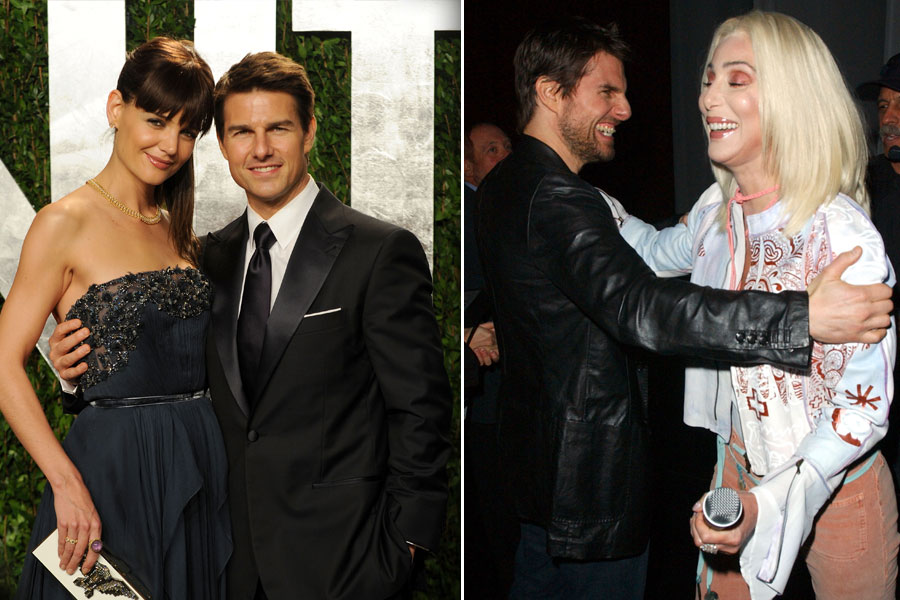 Getty
On the surface, Katie Holmes and Cher have nothing in common. But if you can turned back time, you would see the pop star once dated Katie's ex-husband, actor Tom Cruise.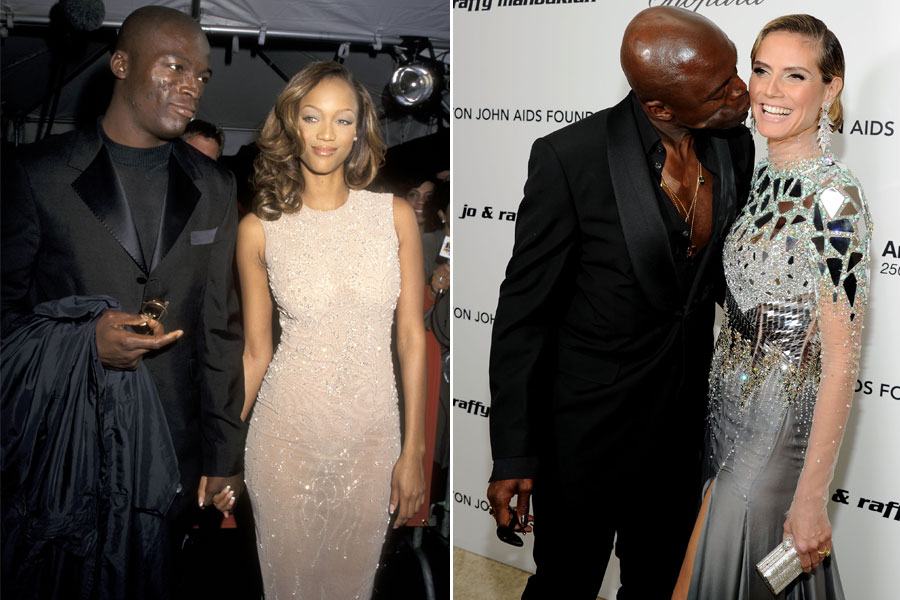 Getty
Victoria's Secret, Sports Illustrated and reality TV are not the only things Heidi Klum and Tyra Banks have in common. Before Heidi was married to her now ex-husband Seal, Tyra dated the British "Crazy" singer.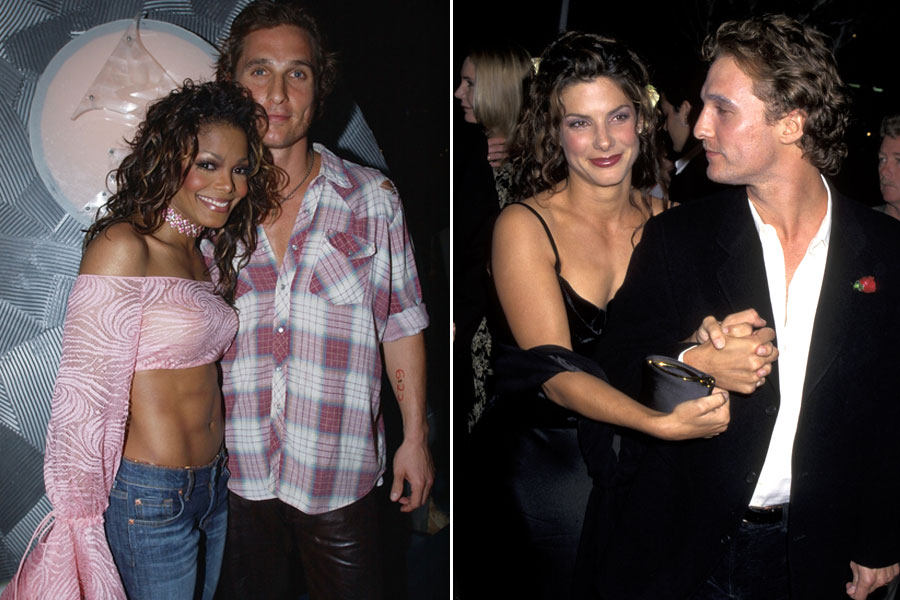 Getty
Janet Jackson is notorious for keeping her romances under wraps. Many years ago she reportedly briefly dated Matthew McConaughey. The Oscar-winning Texan was also Sandra Bullock's ex-beau, as they worked together on the thriller A Time To Kill.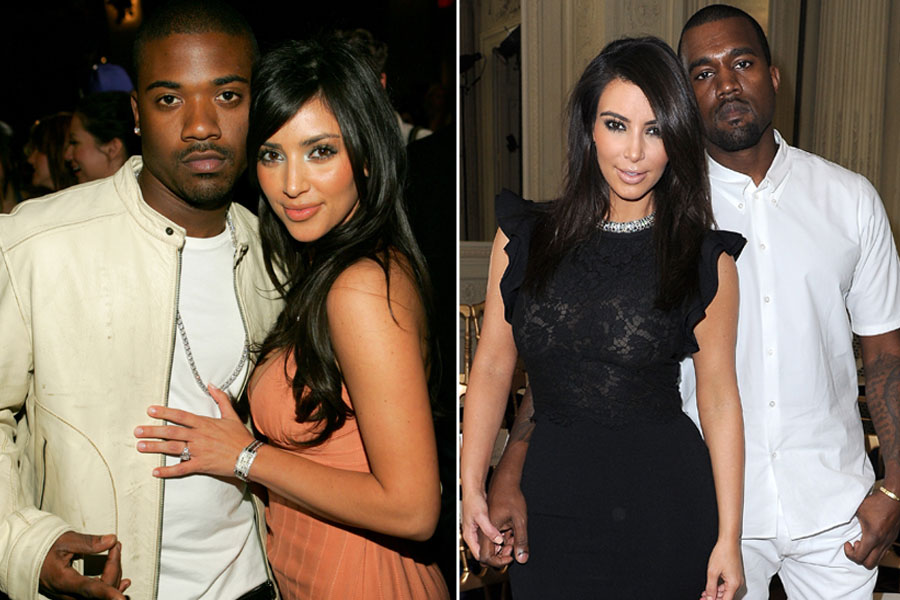 Getty
As Ray J. so eloquently put it in his song "I Hit It First" he dated – and filmed himself having sex with – Kim Kardashian, long before she became Mrs. Kanye West.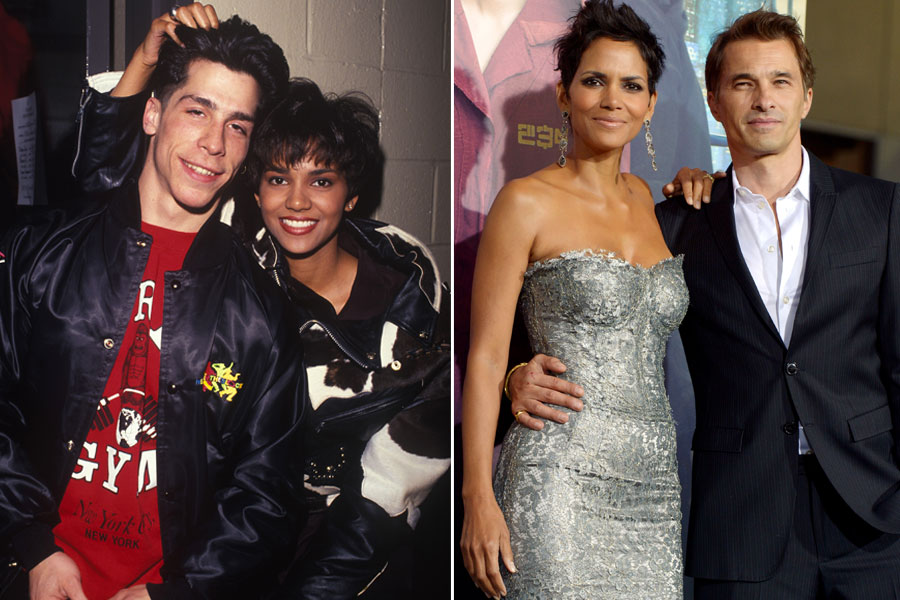 Getty
What do hunky actor Olivier Martinez and New Kids On The Block singer Danny Wood have in common? Surprisingly, Halle Berry. The Oscar-winning actress is now married to Olivier but many moons ago she dated the boy band star.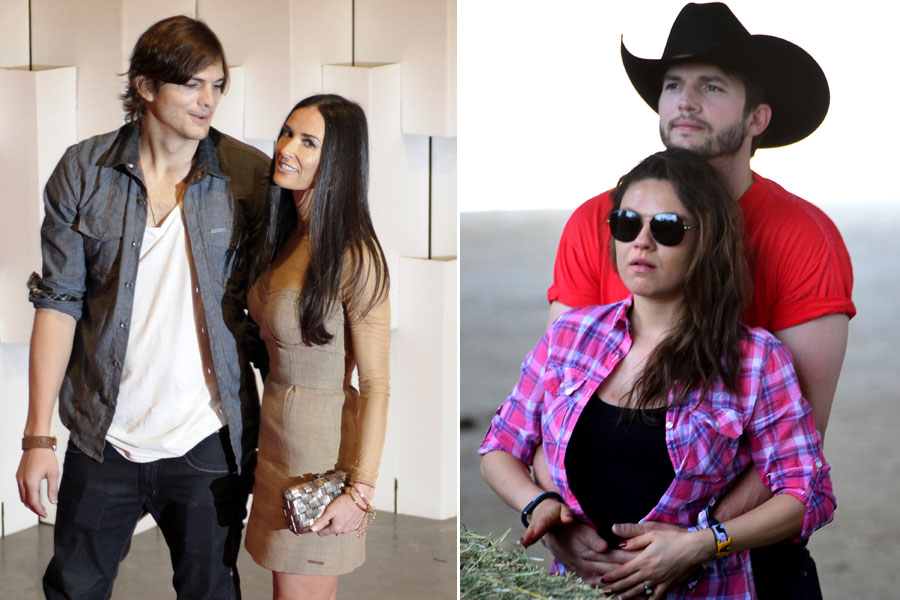 Getty
She may have secretly pined for Ashton Kutcher when they both filmed That '70s Show, but Mila Kunis had to wait a long time to get her man. She is now engaged to, and having a baby with, the actor who was, until recently, still married to Demi Moore.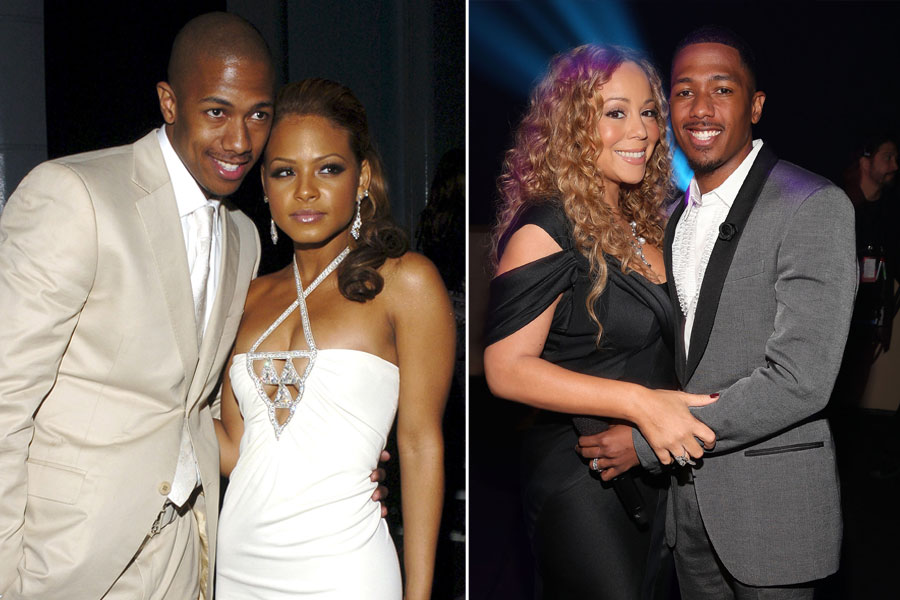 Getty
He's happily married to Mariah Carey now – and is father to their twins Moroccan and Monroe – but Nick Cannon used to be Christina Milian's boyfriend. She played his love interest in the 2003 teen flick, Love Don't Cost a Thing.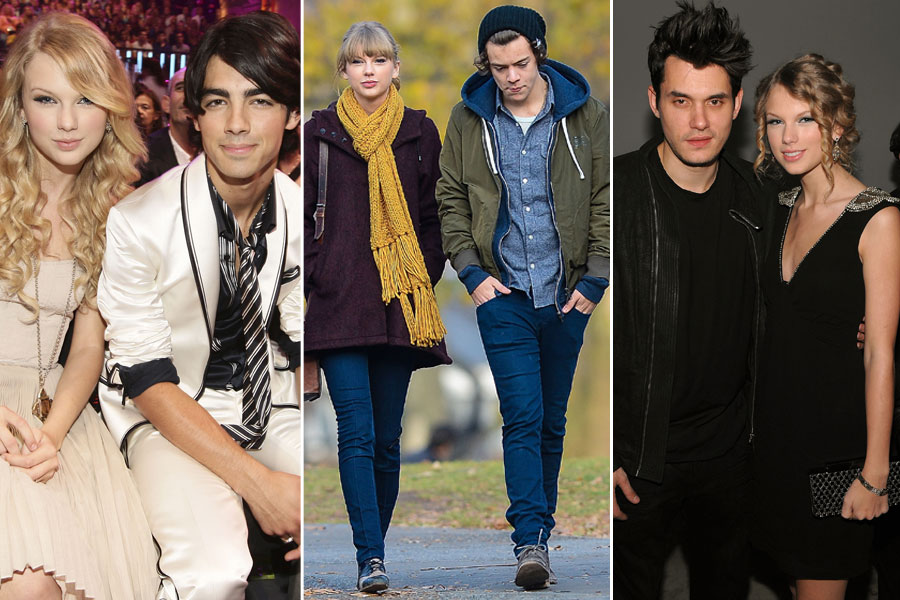 Getty
When it comes to men there are quite a few celebs that Taylor Swift is never, ever, ever, ever getting back together with. They include - in no particular order - Joe Jonas, Harry Styles, Taylor Lautner, John Mayer, Jake Gyllenhaal and Conor Kennedy. Miss Swift is a very, very, very, very busy girl!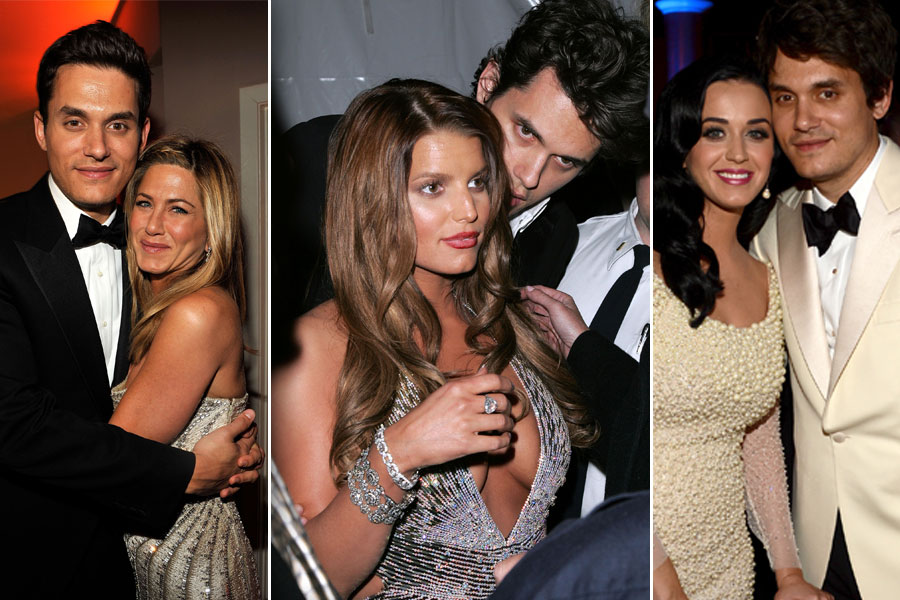 Getty
Speaking of John Mayer he's another person who has dipped into the celebrity dating pool multiple times. He can tell his grandchildren that he has dated Katy Perry, Jessica Simpson, Jennifer Aniston and the aforementioned Taylor Swift.
---