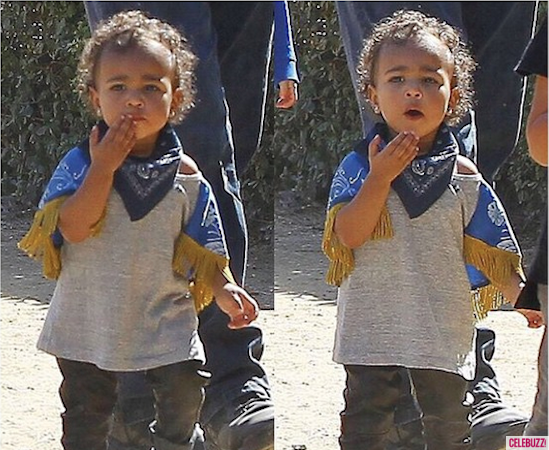 I really didn't think it was possible for North West to get any cuter... But she's proved me wrong!
Kim Kardashian and Kanye West's adorable one-year-old was captured blowing kisses to the cameras on Monday, wearing one of her chicest outfits yet!
The tot--who usually matches mommy in designer couture--was wearing a blue and grey fringe-sleeved shirt with leather pants, which she accessorized with a bandana and little white shoots that donned her name.
Mama Kim had to share the chicness on Instagram, showing off a close up of Nori's ultra cool shoes.
Of course, the one-year-old is already well known for her designer outfits.  An inside source close to the family says North has over 200 unique designer pieces, including a pair of $50,000 diamond earrings from Lorraine Schwartz.
Kim hired a stylist for her daughter to ensure the mommy-daughter duo dons matching ensembles for their public appearances.
A source told Grazia magazine, "Her wardrobe is planned well in advance with regular meetings to discuss looks for the family's public appearances, and North has versions to match a lot of what Kim wears, from dresses to handbags and shoes."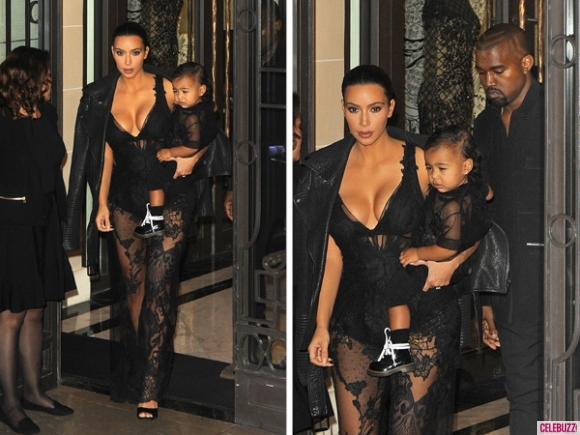 Kim Kardashian, North West and Kanye West attend the Givenchy show as part of the Paris Fashion Week Womenswear Spring/Summer 2015 on September 28, 2014 in Paris, France.
---