10 Celebrities Who Love Small Dogs
You may think Paris Hilton launched the "purse pet" craze, but small dogs actually have a storied history as celebrity sidekicks. Take Mr. Famous, for example. This aptly named Yorkshire terrier was toted everywhere by Audrey Hepburn, a distinction that earned him a part in her 1957 movie, "Funny Face" -- long before a Chihuahua starred in "Legally Blonde," a Brussels Griffon stole scenes in "As Good as it Gets" or a beagle turned into a superhero in "Underdog."
Many of today's celebrities have taken their love of small dogs from the silver screen to real life, and put their star power behind charities to benefit canine companions of all sizes. Who tops our list when it comes to big personalities who love small dogs? Check out the next page. The superstars (and the types of dogs they live with) may surprise you.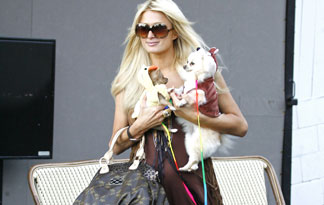 Chances are, you've spotted the furry companions taking a stroll on the arms of the rich and famous.Image Credit: Getty Images (10) | George Tiedemann/GT Images/Corbis |
10: Tony Stewart
Tony Stewart is a two-time NASCAR champion with a reputation for cursing and throwing the occasional punch, but he has a soft spot for small dogs. Especially Kayle, the 8-pound Chihuahua he keeps close to his side. During a 2005 interview with the "Orlando Sentinel," Stewart said Kayle has a couple of favorite activities when they're chilling at home: sleeping in Stewart's bed and watching Animal Planet.
With so much off-the-track focus on animals, it's no wonder that in 2008, "USA Today" reported that Stewart donated money for 30 bulletproof vests for police dogs across five states. He's also made donations to the Indiana Canine Assistant Network, an organization in his home state that trains assistance dogs for people with physical disabilities. The funds all came from the Tony Stewart Foundation, which he launched in 2003 to offer financial support to children and animals in need and to the families of racecar drivers who have been injured on the job.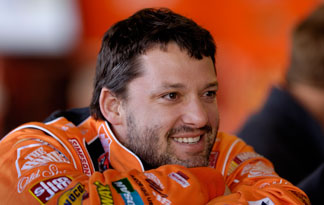 Image Credit: Getty Images (10) | George Tiedemann/GT Images/Corbis |
9: Kristin Chenoweth
Nominated for multiple Emmy awards, Kristin Chenoweth is indeed a triple threat. She sings. She acts. She dances. And she's turned shopping with her best gal-pup into a full-fledged hobby.
Maddie the Maltese, who Chenoweth named after actress Madeline Kahn, seems to enjoy it as much as her favorite human. According to "The New York Times," the two haunt boutiques like New York City's ritzy Canine Ranch, where Maddie once got dolled up in miniature jackets and boots, and Chenoweth splurged on a coordinating faux-crocodile carrying case. But don't be fooled into thinking this duo only cares about retail therapy. In 2008, Chenoweth founded Maddie's Corner, a charity to benefit homeless pets and those who volunteer to help them. Chenoweth's charity sometimes turns its attention to people, too -- it once auctioned celebrity-autographed stuffed animals to raise funds for breast cancer awareness.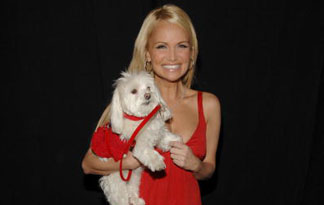 Image Credit: Getty Images (10) | George Tiedemann/GT Images/Corbis |
8: Elton John
Elton John's star may be bright, but so is that of his dog, Arthur. In fact, Arthur lends his star power to charitable causes, too. In 2009, the black-and-white American cocker spaniel appeared at the Waldorf Astoria in New York City for a Breast Cancer Research Foundation party, looking poshly understated alongside his glitzy human companion.
So perhaps it was Arthur who inspired John to lend his considerable support to the United Kingdom's People's Dispensary for Sick Animals (PDSA). The PDSA, which cares for sick and injured animals, featured Arthur and the Rocket Man in its fundraising calendar titled "Pet Pawtraits." In addition, John donates millions each year to other charities around the world, including those that aid animals.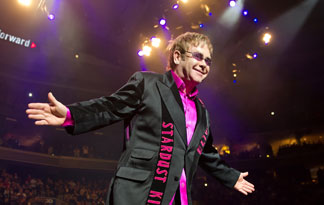 Image Credit: Getty Images (10) | George Tiedemann/GT Images/Corbis |
7: Cindy Crawford
Cindy Crawford, one of the '90s' most memorable supermodels, has waved her fashion-sense wand over two of her favorite pals: Widget and Sugar. In an interview with FashionEtc.com, Crawford said one of her gal-pups owns a wedding gown, and that both the Maltese-Yorkie mixes sport holiday wear that include at least one set of reindeer antlers.
Known today for her fitness- and home-inspired empires, Crawford has turned her considerable talents to fundraising for the good of pets and the health of people. In April 2011, she hosted a charity event called the "1,000 Celebrity Dog-Walking Event" in Malibu, Calif., that included appearances by Widget and Sugar. But these small dogs are more than arm candy. They live in the Malibu home that Crawford shares with husband Rande Gerber and their two children.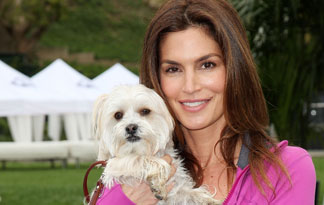 Image Credit: Getty Images (10) | George Tiedemann/GT Images/Corbis |
6: Isaac Mizrahi
Isaac Mizrahi is an award-winning clothing designer who brought celebrity fashion to the masses, hosts a weekly Bravo series known as "The Fashion Show" and has launched a line of popular small dog fashions. He's also the proud pet parent of a rescued beagle/pug mix named Dean who has star appeal all his own.
Dean was a charming co-host during Mizrahi's 2011 emcee gig for the American Society for the Prevention of Cruelty's 14th annual fundraising ball. This once-homeless dog is providing plenty of other inspiration, too. Mizrahi's Fall 2011 line featured canine companions strutting his designs on the, uh, dogwalk. And his previous year's runway show included a bevvy of rescue dogs. (Fashion tip: According to PEOPLEPets.com, he's forecasting that blue and green will be hot in canine couture this year, along with long pants. Woof!)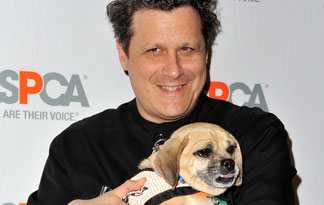 Image Credit: Getty Images (10) | George Tiedemann/GT Images/Corbis |
5: Mariah Carey
Although the jury's still out on whether Mariah Carey's small dog has a diva-like attitude, we wouldn't blame him if all the posh treatment went to his head.
Jack, as the Russell terrier is aptly named, appears in Mimi's music videos and is her longtime companion -- at home and abroad. According to DailyMail.co.uk, Jack enjoys either being flown on a private jet or driven in a chauffeured Mercedes, but only because he's not allowed to fly first class with his best gal.
If he takes a cue from his owner, Jack is sure to lend his celebrity muscle to charitable concerns. In the past, Carey has donated her signature (and Jack's paw print) to a charity auction to benefit the Mississippi Animal Rescue League. And when an admirer gave her two fur coats, Mimi sent the gifts directly to People for the Ethical Treatment of Animals (PETA) -- so they could be donated to the homeless.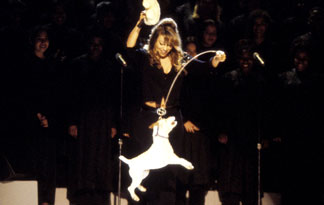 Image Credit: Getty Images (10) | George Tiedemann/GT Images/Corbis |
4: Mickey Rourke
Ruggedly handsome actor Mickey Rourke enjoyed the fringe benefits of fame during the 1990s -- maybe a little too much. Rourke has publicly admitted to partying his way through a small fortune, but said his small dogs brought him back to reality.
Rourke has been a pet parent to at least two Chihuahuas, including Beau Jack (who he credits with pulling him out of a dark period, according to "The Telegraph") and Beau Jack's son, Loki, who was his constant companion at home and at red carpet events. The small dog died in 2009 -- the same year as Rourke's big comeback in "The Wrestler." When the role earned him a Golden Globe, he credited Loki, along with his other dogs. "I'd like to thank all my dogs…Sometimes when a man's alone, that's all you got is your dog. And that meant the world to me," he said during his acceptance speech. It's no wonder he supports the Bony Pony Ranch -- a hands-on, animal-friendly camp for underprivileged children -- and PETA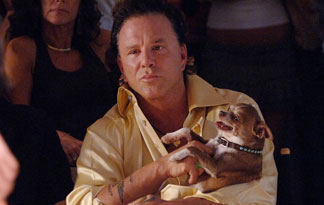 Image Credit: Getty Images (10) | George Tiedemann/GT Images/Corbis |
3: Hayden Panettiere
Hayden Panettiere starred in the television series "Heroes," but in real life she's a hero to animals -- especially her rescue dog, Madison.
Madison, a terrier mix, got more than a loving home when adopted by Panettiere. She was offered a second home on the set of the hit television show, often accompanying her proud pet parent to work. Because Panettiere can't rescue every stray animal that comes near her Los Angeles home (although she's admitted to trying), she's thrown herself into supporting organizations that care for homeless pets, including The Humane Society and K9 Connection, an event-based organization that connects people and their dogs. Panettiere doesn't only assist domestic animals, though. She also supports Save the Whales, Orca Network and other sea animal-related charities.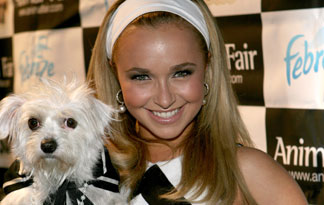 Image Credit: Getty Images (10) | George Tiedemann/GT Images/Corbis |
2: Adam Sandler
Adam Sandler may have an impressive funny bone, but when he's in the company of his English bulldogs, they're bound to steal the scene. Sandler's last three canine companions have been members of this so-ugly-they're-adorable breed.
Although two of Sandler's English bulldogs have died, they're still an integral part of a the section of AdamSandler.com that's devoted to his dogs. His newest bulldog -- Babu -- accompanies him nearly everywhere, including to the 2008 filming of "Bedtime Stories." Babu is so much a part of Sandler's life that he often films the small dog's antics -- including his affinity for fetching. Although Sandler may laugh it up on screen, he takes animal welfare seriously, supporting the Animal Rescue Foundation and among other charities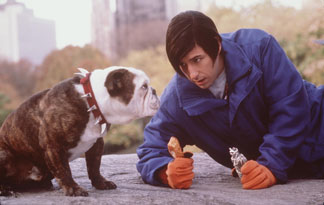 Image Credit: Getty Images (10) | George Tiedemann/GT Images/Corbis |
1: Oprah Winfrey
Oprah fans know she loves dogs, especially the cocker spaniels who share her home. So much so that when her dog Sophie died, Oprah shared her sorrow with her audience -- and later donated a suite at Pets Are Worth Saving (PAWS), Chicago's largest no-kill shelter, in Sophie's memory.
Oprah featured the self-funded suite, along with her other small dogs, on the June 2009 cover of O magazine. The issue also turned the spotlight on puppy mills and rescue dogs, one of Oprah's many dog-related concerns. According to the issue, there's been a 50 percent reduction in the number of pets euthanized in the Windy City since PAWS opened in 1997 -- including one pup rescued by Oprah herself. Sadie, a cocker spaniel that Oprah first met at the shelter, was the smallest of her litter but tough nonetheless. After winning a fight with the often-fatal parvovirus, Sadie seemed a natural fit for the woman who has spent so much of her life inspiring others.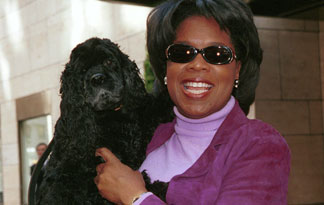 Image Credit: Getty Images (10) | George Tiedemann/GT Images/Corbis |
---