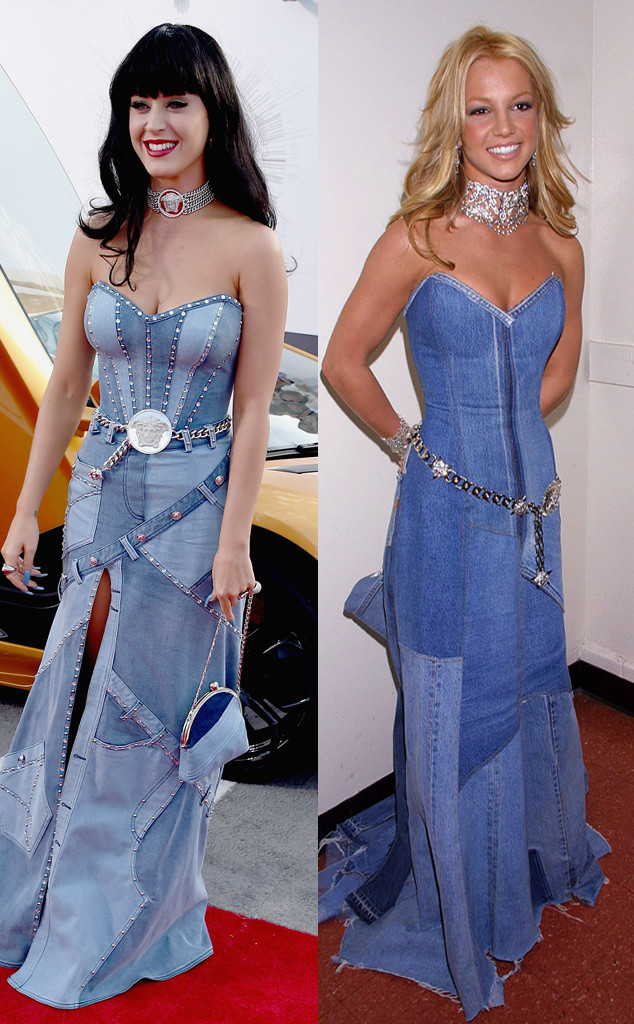 They say imitation is the sincerest form of flattery, and Britney Spears is flattered!
Katy Perry showed up to Sunday's MTV Video Music Awards wearing a denim dress made by Versace Couture; she was channeling Spears' iconic look from the 28th Annual American Music Awards in 2001. Perry even recruited rapper Riff Raff to emulate singerJustin Timberlake, Spears' boyfriend at the time.
The Best Female Video winner was inspired to honor Spears after watching her idol's Woody Wedpecker impression Friday. "This is the best thing I've seen all day bb," Perry, 29, 
. The "Perfume" singer, 32, , "@katyperry You're up next.
#Noexcuses
. You have 24 hours to do your best impression."
The "Dark Horse" singer missed the deadline, but Spears still applauded her efforts.
Prior to walking the red carpet and collecting her Moonman trophy, Perry dropped hints about her dress. "I must admit my outfit is a result of my love for nostalgia and my tumblr addiction," she 
.
"I did my best impression, hope u likey!" Perry 
. Spears, who was performing in Las Vegas, , "Just when I thought the denim dress had retired....you bring it back! You looked amazing tonight bb."
Spears still has the original look in her closet.
"It was my idea," she told MTV of dressing like Timberlake in 2013.
---