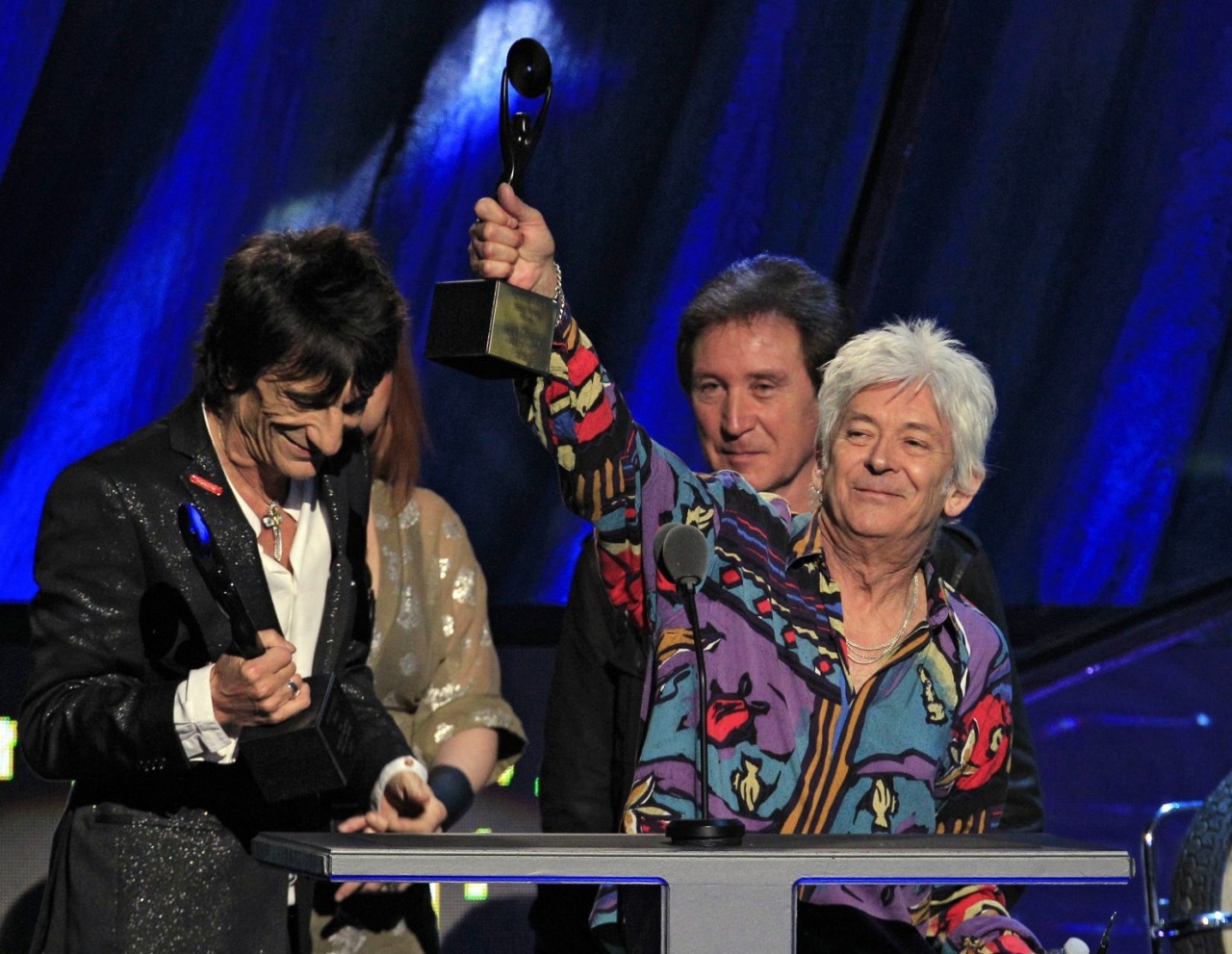 Ian McLagan, right, holds up his trophy after he and Ron Wood, left, and Kenney Jones, background, were inducted into the Rock and Roll Hall of Fame in 2012 as members of the Small Faces, later called Faces
Ian McLagan, an inventive and agile keyboardist with the hit-making British pop group Small Faces — later just Faces — who also recorded and performed with the Rolling Stones, died Dec. 3 in Austin. He was 69.
The cause was a stroke, his Web site said. He was about to start a North American tour with bassist and singer Nick Lowe.
Mr. McLagan was born in London on May 12, 1945. Small Faces formed in 1965 with singer-guitarist Steve Marriott, bassist Ronnie Lane, drummer Kenney Jones and keyboardist Jimmy Winston. Mr. McLagan, adept on the Hammond organ, soon replaced Winston.
With their mod clothes and antic, alcohol-fueled performances — they reportedly had a bar and bartender on stage just for them — the group became a major act in England with songs such as "All or Nothing" and "Sha-La-La-La-Lee". They once dislodged the Beatles from the top of the British charts.
Small Faces also had several hits that reached the Top 20 on the American pop charts, including "Itchycoo Park" in 1968.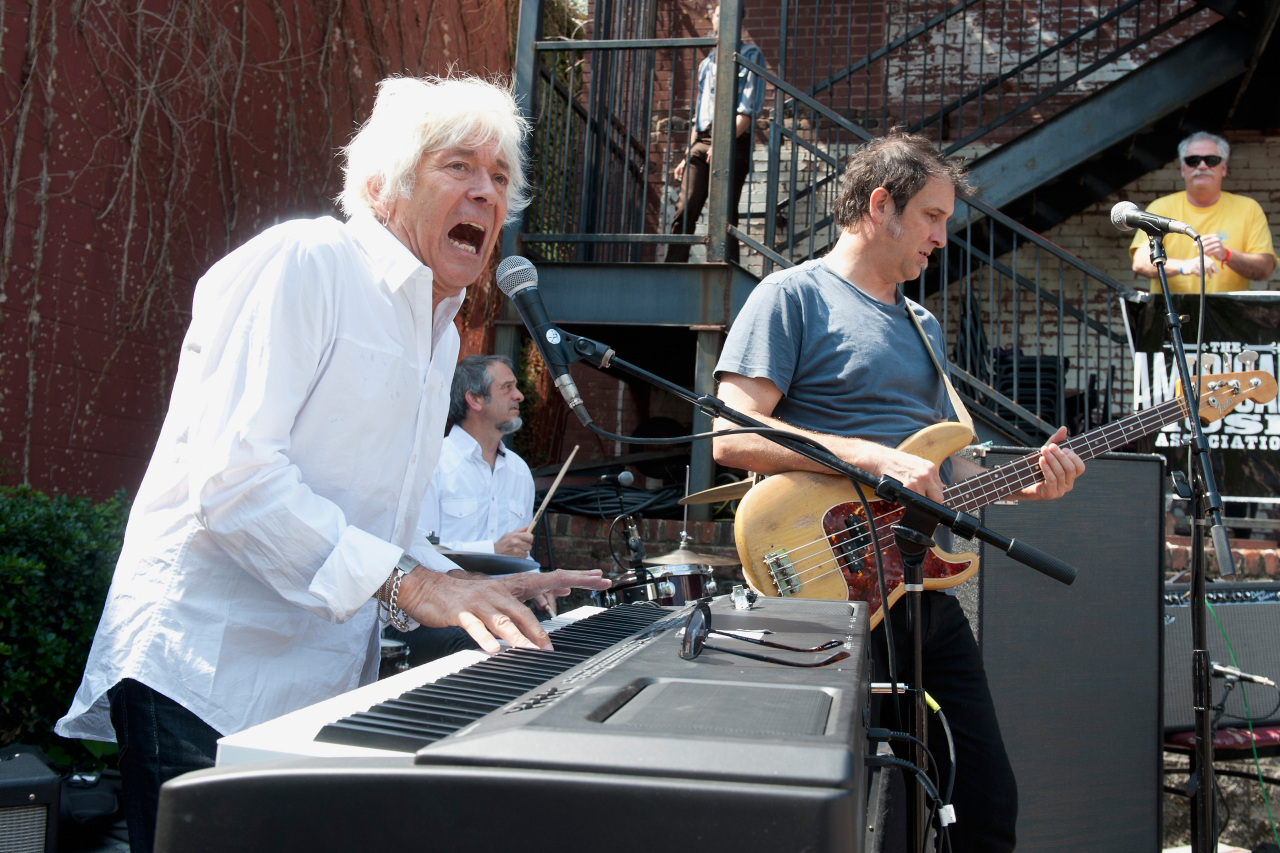 Keyboardist Ian McLagan in September 2014 in Nashville.

"Small Faces were really a soul band as far as we were concerned," Mr. McLagan told Rolling Stone in 2012. "That's what we listened to, that's what we played, you know? We were pretty much based on Booker T. and the M.G.'s."
Mr. McLagan said that the band's later, increasingly psychedelic sound — on such songs as "Here Come the Nice" — was a result of eating LSD-spiked orange slices at a party. In 1969, the group changed its name to Faces following the departure of Marriott to form Humble Pie and the arrival of singer Rod Stewart and guitarist Ronnie Wood, both of whom had left the Jeff Beck Group.
The reorganized Faces, with its rollicking and bluesy sound, played corner pubs and filled large arenas. By the early 1970s, the group had became a major rival to the Stones with such albums as "A Nod Is as Good as a Wink . . . To a Blind Horse" (1971), which included the hit song "Stay With Me."
Within a few years, the group began to splinter. Stewart went on to a major solo career. Wood joined the Stones. Jones replaced Keith Moon in the Who after Moon's death in 1978 from a drug overdose.
Mr. McLagan, who also released solo albums, backed Stewart on several recordings and played on the Stones' 1978 album "Some Girls," including the organ solo on the hit single "Miss You." He also played over the years with Bruce Springsteen, Bob Dylan and Carly Simon, among other entertainers.
Small Faces and Faces were inducted into the Rock and Roll Hall of Fame in 2012.
Mr. McLagan settled in Austin in the early 1990s and continued to play with his own group, Bump Band.
He was married to Kim Kerrigan, a onetime model who had formerly been married to Moon. She died in a traffic accident in 2006. A complete list of survivors could not be confirmed.
Mr. McLagan, who began his career as a guitarist in a skiffle band, once recalled that his mother forced him to take piano lessons.
"I had piano lessons, which I hated," he told Rolling Stone. "My mother decided I was going to have [them]. I didn't want piano lessons; what damn good would they do me?"
---