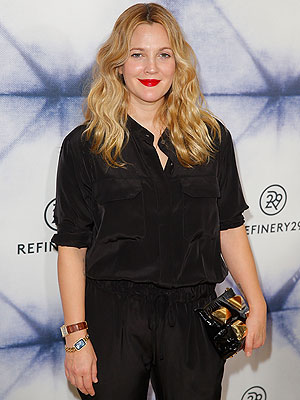 Family comes first for Drew Barrymore.
"It's amazing. It's the driving force behind how I live my life," Barrymore told PEOPLE at the Refinery29 L.A.
Holiday Party on Dec. 10.
Barrymore, 39, and husband Will Kopelman welcomed daughter Frankie in April. The couple's baby girl joined older sister Olive, 2.
And with her two little ones at home, Barrymore says she's had to prioritize her many hats.
"The acting has to be less and less because it's too time-consuming. I love it and I don't want to abandon it, but it can't be at the forefront right now," the actress explains, adding she loves her cosmetics line, Flower Beauty, "because it allows [her] to be a great mom."
But even though she's focusing on her growing family, Barrymore admits dividing her attention between her girls has its own set of challenges.
"It's a balance of who gets the attention, and it's a tightrope," she shares. "But it's also a wonderful, amazing journey to raise two kids that love each other."
And with so much going on, the proud mom is just starting to focus on shedding her pregnancy pounds.
"It took nine months to build. It should take nine months to get off," she explains. "I wanted fettuccini alfredo. I didn't want a barbell."
Barrymore adds, "I was like, 'Don't talk to me about how fast and fabulous you are or it came off. That was not my experience. I'm having to work my ass off until I even think about getting it off."
---