It seems as if 18 year old Kendall Jenner is following her older Kardashian sisters' footsteps. Recently, a picture of Kendall Jenner modelling completely naked was released. Kendall has being seen modelling partially naked, but not completely. Adding on, Kendall Jenner appeared in another recent photo shoot for LOVE magazine where she was modelling topless and even lit a cigarette! These racy photos shocked the whole public, and social media became uproar. Even her event and guest appearance outfits have become more and more racy and exposing more skin while the other guests were dressed in long nice dresses, appearing all neat and appropriate.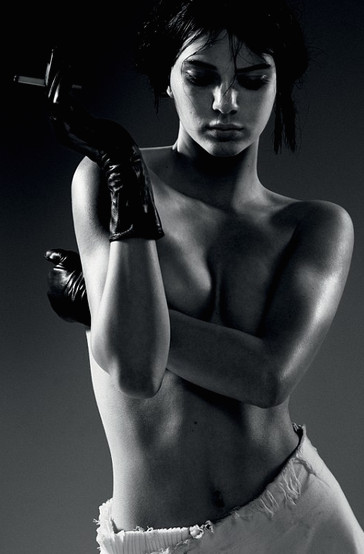 Kendall Jenner is only eighteen years old, and she is already wearing these questionable outfits and modelling in nominal clothing. The first time Kendall appeared topless was a huge shock for everyone. Nobody thought that nice and quiet Kendall would have done that at such a young age. At that time, Kendall was about seventeen years old. Other seventeen and eighteen year olds are just graduating from high school, and most will not be thinking of wearing racy outfits and modelling for a magazine cover.
However, we cannot completely blame Kendall for choosing this path and doing what she does. She definitely is not a normal teenager. Working in such an industry, Kendall has a lot of pressure from the public as well as a great amount of influence from her three older sisters, Kourtney Kardashian, Kim Kardashian and Khloe Kardashian. Being in the modelling industry is very affected by who you surround yourself with. Kendall's three older sisters have all appeared in very racy photo shoots and wore extravagantly exposing outfits. Kim Kardashian, particularly, is known for her appearances in sexy photo shoots and magazine covers which require little or no clothing at all. With such influences always around her, it is no doubt that their younger sister, Kendall Jenner, would someday appear in such photo shoots. Just hope their youngest sister, Kylie Jenner, wouldn't take up such activities at such a young age.
When she was younger, Kendall Jenner had a lot of younger fans and support from smaller kids. Now, after appearing in topless and naked photo shoots, she has lost a lot of support from those younger fans, but she has gained support from others as well.
Do you think 18 year old Kendall Jenner is going in the right path or is this a little too extreme?
---